Product - (FMG) Anti-Collision Light Flash Measuring Gun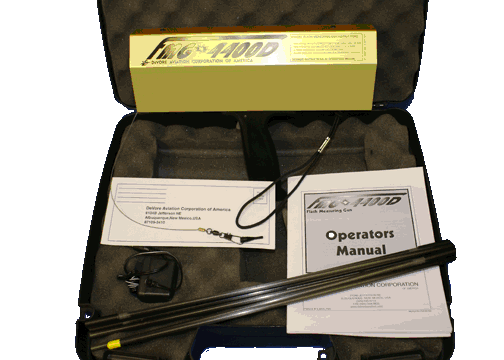 FLASH MEASURING GUN - FMG 4400D
The FMG4400D Flash Measuring Gun is manufactured by DeVore Aviation to meet the FAA requirements for periodic measurement of the intensity levels of an aircraft's strobe or anti-collision light systems. There is no other accurate means of determining the output intensity of a strobe light than to utilize a microprocessor-based electronic measuring system, Like the FMG4400D. Because the human eye is inaccurate at best when looking at a strobe lights relative intensity, aircraft maintenance personnel have historically allowed anti-collision lights to operate until failure. This is no longer an acceptable approach to the FAA.
DeVore's hand-held FMG is a lightweight, accurate and an affordable solution for determining of strobe output levels. A clear and highly visible LED readout is on the back of the gun, permitting operations in all weather conditions and at any time, day or night. All necessary equipment and data - along with operating instructions - comes with each FMG in it's own storage and transport suitcase. DeVore also provides the annual FMG condition check service for a nominal fee.
© 2013 Devore Aviation Corporation of America.